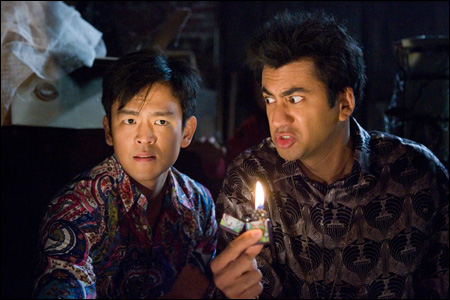 Missed this one when it was posted last month... A few weeks back, from SXSW, Ain't It Cool News posted an interview with John Cho, Kal Penn... and Neil Patrick Harris, talking about
Harold and Kumar Escape from Guantanamo Bay
:
Quint chats with Kal Penn, John Cho and Neil Patrick Harris! Possible NPH spin-off movie?!? And a tidbit on STAR TREK!
. It's a wacky little interview talking about all sorts of stuff from the movie... so if you like your movie with a few surprises, don't read it. I'll just give you some keywords: cyclops, unicorn, female genitalia.
John Cho does let loose a little tidbit about
Star Trek
though... As you know, he's playing Sulu in J.J. Abrams' new re-envisioning of the sci-fi franchise. The project is super-secret, and details are hard to come by. But he got this question from NPH, of all people:
Neil Patrick Harris: Can I ask a question?

John Cho: Yeah.

Neil Patrick Harris: A serious question that you might not be able to answer? Are they anticipating a franchise? Is that the plan? Did they make the movie to get it going again or did they make a movie to homage the pasts?

John Cho: I'm not really sure how I can answer that without giving something away. I think there's a possibility of them making more of these, yeah.

Neil Patrick Harris: Cool. I can't wait. I'll be first in line.
It's not much, but it's something... the possibility of more
Star Trek
movies jumpstarted by this one. But first we have to wait for this one. And it has to be good. The hype is so huge already, I don't know how it's going to live up to everyone's expectations—and it's still over a year away. Anyway,
Harold and Kumar Escape from Guantanamo Bay
opens in theaters nationwide on April 25. It's crazy.