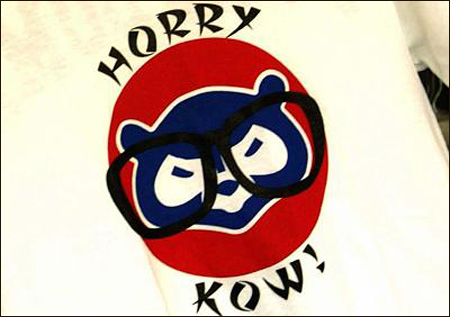 I know a lot of Cubs fans are happy about what Japanese outfielder Kosuke Fukudome has brought to the team this season... which is why it's so ridiculous that anybody would buy and wear this t-shirt:
Fukudome doesn't find racist T-shirts in Wrigleyville funny
. But a Fukudome t-shirt with a
racist
image is apparently the hottest-selling item at souvenir stands selling unlicensed Cubs-related merchandise.
As you can see above, on the front of the shirt is the traditional Cubs cartoon bear face but with
slanted eyes
and wearing oversized Harry Caray-sized glasses. It's accompanied by the words "Horry Cow" in cartoonish "Japanese" script. (The late Caray was the Cubs' longtime announcer, and among his catchphrases was, "Holy cow!") Fukudome's name and number are on the back.
Great. I don't know what's worse—the fact that somebody (who is apparently "an Oriental guy") made this shirt, or that it's so damn popular amongst Chicago fans. What a way to welcome the franchise's first Japanese player.
That's racist!