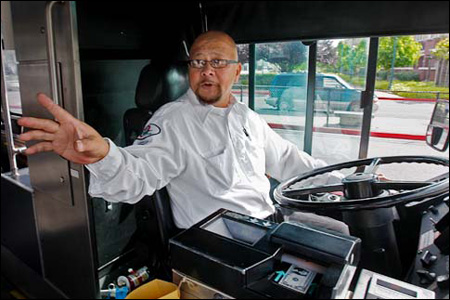 Jessa Dela Cruz, a bus jockey for the Bay Area's AC Transit, is the three-time championship transit operator of North America, having just won his third title at the annual transit "roadeo" in Texas:
Top bus driver followed a winding path
. He beat out 75 operators from the United States and Canada for the title, maneuvering a 40-foot motor coach flawlessly through an obstacle course in 6 minutes and 33 seconds.
I didn't even know such a competition existed. The contest at the annual International Bus Roadeo, sponsored by the American Public Transportation Association, tests an operator's ability to make tight turns driving forward and backward, stop quickly and smoothly, avoid obstacles and pull within a half-foot of the curb. I have been a passenger on many buses in my lifetime, and know for sure that most drivers would
not
do well in this contest.
For those of you in the Bay Area, Jessa drives the suburban No. 84 line from San Leandro and Hayward in the morning. In the afternoon, he drives the DB line, a cross-bay run between Union City and Palo Alto. If you ride any of these lines, rest assured that your bus is being operated by the best bus driver in North America.