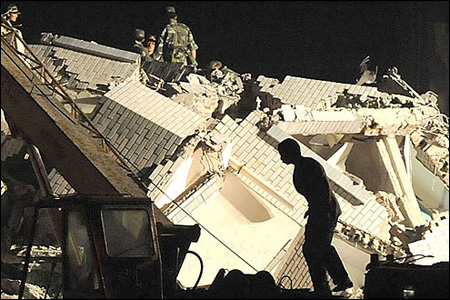 First Burma, now China. By now, you've heard about the massive earthquake that has devastated the region around Chengdu in southwest China. The 7.9-magnitude quake toppled buildings, schools and chemical plants, killing about
10,000 people
and trapping many others in the rubble of its destructive wake:
China quake death toll rises to nearly 10,000
.
The news and images I've been seeing all day have been absolutely crazy... They've got a whole bunch of updates posted throughout the day over at
Shanghaiist
. This is the worst quake China has seen in over thirty years. More here:
Powerful Quake Ravages China, Killing Thousands
.
Reporters from NPR's
All Things Considered
were actually in Chengdu preparing for a special series when the earthquake struck. They've got some amazing coverage, including audio from an interview they were recording at the exact moment when the quake hit. Check it out here:
Chengdu Diary
.
Meanwhile, here in the United States, in communities like the San Gabrial Valley, where many Chinese immigrants are from the affected areas, many anxiously wait to hear from loved ones in China:
In the U.S., anxious Chinese immigrants follow news of quake
. Stay tuned.