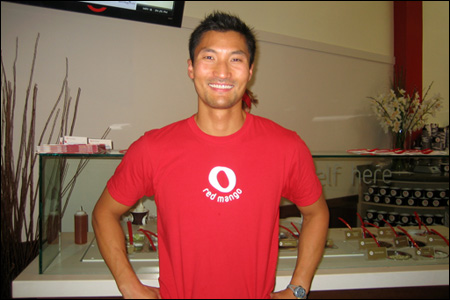 If you live in the Bay Area, you might be feeling the effects of some extremely
hot
weather this weekend. So why not cool down with some refreshing frozen yogurt? Better yet, some refreshing frozen yogurt served up by none other than
Survivor: Cook Islands
winner Yul Kwon? Yes, that's right. My hero served me some yogurt.
Yul—the man, the myth, the legend—just opened up a new
Red Mango
store in downtown Palo Alto (the first such location in Northern California), serving up tasty frozen yogurt with your favorite toppings. A nice way to hang out on an unusually warm May day. The store officially opened up to the public today, and is located on 429 University Avenue, between Kipling and Waverly. You know you want it.