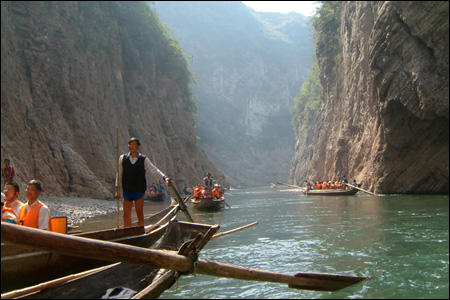 I saw a lot of films at the Los Angeles Asian Pacific Film Festival last week, but the one that sticks out, and was easily my favorite of the entire festival, is Yung Chang's
Up the Yangtze
. It's absolutely brilliant. It's an amazing documentary about the lives and landscapes irrevocably transformed by China's Three Gorges Dam project—a controversial symbol of the Chinese economic miracle. Beautifully shot with an amazing eye for real human drama, it's a stunning portrait of life inside modern China. I was completely sucked in.
I know, I know. A documentary about a river cruise? A hydroelectric dam? It sounds like something they'd make you watch in social studies class. Forget that. It's a fantastic, moving, disquieting story set against the backdrop of the world's largest megadam.
Up the Yangtze
follows Yu Shui ("Cindy"), who must leave her peasant family on the banks of the River to work aboard a "Farewell Cruise," a weird floating tourist trap servicing Westerners and offering a final morbid glimpse of this world before it disappears forever.
Here's a good indieWIRE interview with the director:
"Up the Yangtze" Director Yung Chang
. Since its world premiere at the Vancouver International Film Festival last fall,
Up the Yangtze
has screened at numerous film festivals throughout North America, including Sundance, and received a great deal of
critical praise
. I'm telling you, I can't recommend it enough.
The film is currently playing at the
IFC Center
in New York, but will only be there through Thursday, May 15. According to this
box office report
, it apparently did really well over weekend, earning an impressive $15,851, surpassing the per-screen averages of
Planet B-Boy
and
Young@Heart
to become the leading documentary debut for 2008.
In Southern California, the movie opens this Friday, May 16 at theaters in Los Angeles, Encino, Pasadena and Santa Ana. Then it'll continue its theatrical run in U.S. cities throughout the summer. For the full release schedule, visit the Zeitgeist Films website
here
. To learn more about
Up the Yangtze
, go
here
.