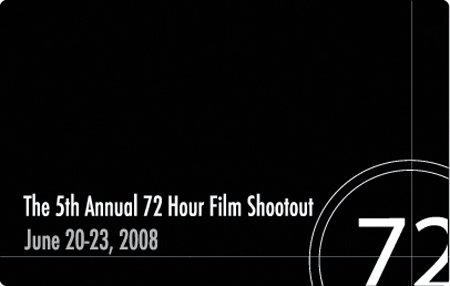 UPDATE: The early registration deadline has been extended to June 6!
All right, people. It's that time of year again. The
5th Annual 72 Hour Film Shootout
is going down! Presented by the Asian Amerian Film Lab, it's a competition where filmmakers from around the country will have 72 hours to write, shoot, and produce a short film based on a particular theme. It's crazy. It's stressful. It's no way to make a movie. But it's a hell of an experience, and a great opportunity to flex your creative muscles. You'll find some of the best work emerges under extreme pressure and time constraints.
The filmmaking festivities kick off on June 20, 8:00pm (EDT) at the NYC launch party, where the competition theme will be announced (and simultaneously posted online at the
Shootout website
). The party will be held at White Rabbit Lounge, featuring a special performance from New York hip hop sensation Koba Sounds.
Filmmakers will have the chance to compete for over $5000 in cash and prizes including Final Draft software, an Apple iPhone, and more. The Top 10 Shootout films will screen at the New York Asian American International Film Festival organized by Asian CineVision (July 10-19, 2008), the First Annual Philadelphia Asian American Film Festival (October 24-30 2008), and a special screening event organized by NYC-based Aspire Asian Film Circle.
In addition, AAFilmLab has partnered with the Museum of Chinese in America's Chinatown Film Project to add a special award category to this year's Shootout:
The Chinatown Award
. Films that incorporate a Chinatown as a location or narrative device are entered into the "Chinatown Award" category, where you could win in-kind post-production services totaling $3000 from Deluxe New York.
So start getting your teams together! You don't have to be in New York—you can compete from anywhere. The early registration deadline is Friday, June 6. The regular deadline is June 13, and the late deadline is June 19. To learn more about the 72 Hour Film Shootout, including rules and registration guidelines, visit the website
here
. See you at the Shootout.