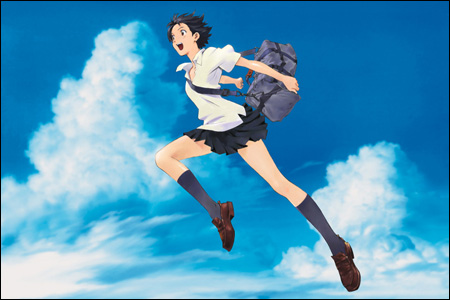 Good news for some anime fans... Mamoru Hosoda's animated feature film
The Girl Who Leapt Through Time
will be opening for a limited theatrical run this weekend at the
ImaginAsian
in New York and the
ImaginAsian Center
in Los Angeles. Just two theaters, for one week, but a good chance for fortunate fans to check it out on the big screen.
I haven't seen it yet, but I've heard nothing but great things. Based on a novel, the film centers on a high school girl, Makoto, who gains the power to go backward in time after a near-death accident at a train crossing. Since its release, the film has received worldwide critical acclaim and international awards. I can't wait to check it out. View the trailer for the movie
here
.
The film will screen with an English language track in New York, and a Japanese language track with English subtitles in Los Angeles. Why the two tracks? I don't know. I've heard that the film will also be screening later this summer in Seattle. If you don't live in any of these cities, I'm the sure the distributor, Bandai Entertainment, has plans to eventually release it on DVD.
Oh, and this Friday, the first 50 people at the 7:00pm showing in Los Angeles and the 6:00pm showing in New York will receive a free theatrical-sized poster of the
The Girl Who Leapt Through Time
, courtesy of Bandai Entertainment Inc. and Kadokawa Pictures USA. Free stuff always helps.