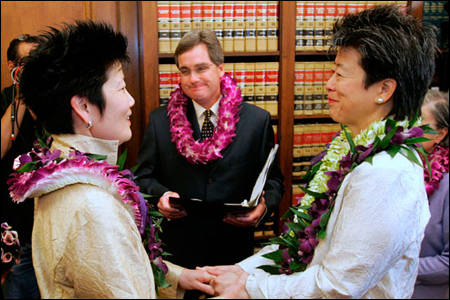 Today, hundreds of gay and lesbian couples across California got married. Legally. It's a historic day, giving a human face to last month's landmark California Supreme Court decision striking down two state laws prohibiting same-sex unions:
Hundreds of Gay Couples Wed in California
. So check out one of the photos accompanying this
New York Times
article. That's none other than activist Helen Zia with partner Lia Shigemura, who got married today at City Hall in San Francisco.
Next up, Sulu. George Takei was the first guy in line to pay $70 for a marriage license in West Hollywood this morning:
'Star Trek's' George Takei gets marriage license
. He plans to marry longtime partner Brad Altman on September 14th in Los Angeles. Addressing the crowd outside the West Hollywood city auditorium, he said, "May equality live long and prosper."