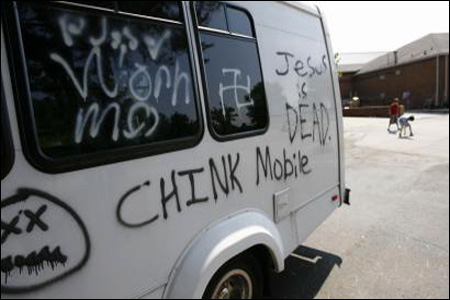 This past Sunday morning, the members of Evergreen Presbyterian, a Korean church in Suwanee, Georgia, discovered their facilities had been vandalized overnight with racial slurs and hate symbols:
Racial epithets, Nazi signs painted at Korean church
.
That's racist!
Vandals spray-painted the church van, pavement, the dumpster and basketball goal with racial epithets and hate symbols sometime between 11:30pm Saturday night and when people first arrived for service on Sunday morning. The graffiti included upside down crosses, swastikas and the words "Jesus is DEAD" and "CHINK Mobile." More here:
Korean church in Suwanee vandalized
.
There aren't any suspects at this time, but the cost of repainting the van makes the vandalism a felony. The police believe that this was probably nothing more than some punk kids with nothing better to do on a Saturday night. That's actually more disturbing to me than an all-out hate strike.
Imagine if loser kids did something like this every time they were
bored
. Hey, it's happened
before
. Clearly, there are better ways to spend a Saturday night than spray-painting hate messages on a church van. I think it's irresponsible to just dismiss a crime like this simply as "anti-social." It's a hate crime. This is hate, and it comes from somewhere.