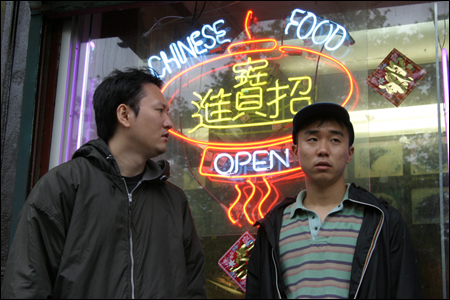 For those of you in New York, here's a film opening up this weekend that may interest you...
Take Out
, directed by Sean Baker and Shih-Ching Tsou, follows a day in the life of an illegal Chinese immigrant working as a deliveryman for a Chinese take-out place in New York City. Ming Ding is behind in paying back the smugglers who brought him to the U.S., and must earn the money—more than double his average daily income—through tips, by the end of the day.
At last! The deliveryman is finally the
starring
role. I remember coming across this film several years back on the film festival circuit, but only had the chance to check it out recently. It's an engaging, deeply-affecting film that puts a human face on the lives of illegal immigrants—particularly New York City's deliverymen—who are ubiquitous, yet largely invisible. I really enjoyed it. Here's an article:
Film Spotlights City Life Often Overlooked
.
Take Out
is an impressive accomplishment, largely thanks to the convincing performance of lead actor Charles Jang, and its gritty, unapologetically low-budget, verite style. The film was apparently made on a minuscule $3000 budget, and it shows. But in this case, a little goes a long way. It's extremely resourceful filmmaking. The film employs an ensemble case of both professional and nonprofessional actors, and was filmed in a real take-out restaurant during operating hours. My favorite character is Big Sister, who takes the orders at the restaurant. Apparently, she's the woman who actually worked in the restaurant they filmed at, answering phones.
It's a feature narrative, following Ming on his deliveries throughout the city, but will have you fooled at moments into thinking you're watching a documentary. In fact, I read that at one screening, an audience member asked the filmmakers where the film's main character was now, and whether he was doing all right. The guy is indeed doing all right. Jang currently works in the marketing division at Google in New York and is getting his MBA part-time:
This Chinese Deliveryman Works at Google
.
Take Out
opens this Friday, June 6 at the Quad Cinema in New York. There will be Q&A's with filmmakers Sean Baker and Shih-ching Tsou, and lead actor Charles Jang, after select screenings over the weekend. To learn more about the film, visit the
Take Out
website
here
. View the trailer
here
.