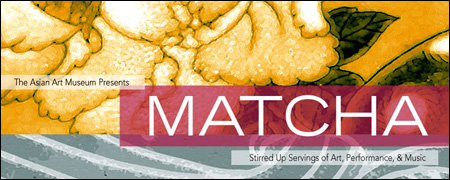 This is for my Bay Area readers... This Thursday, grab some friends and head on over to the Asian Art Museum for
MATCHA
. The museum's popular evening mixer series is back for its third season, happening the first Thursday of every month through November. Things kick off tomorrow night with the theme of
Healing Arts
. Here are the details:
MATCHA: Healing Arts
Thursday, June 5, 5:00-9:00 pm
$5 Admission
Asian Art Museum

Our popular evening mixer series is back for its third season! The perfect way to get your monthly arts fix, you can watch performances, stroll the galleries, create art, mingle over cocktails, and enjoy music.

MATCHA will kick off this Thursday with multi-sensorial offerings of Asian healing arts. Detoxify with shiatsu, acupuncture, cupping, Thai foot massage, and other mini-treatments, sip tea, channel your "vital energy" in a qi gong session, have your pulse checked, drop in on a gallery tour, and unwind with live Chinese music. Be there for the first MATCHA of the year. Co-organized with the Acupuncture and Integrative Medicine College, Berkeley.
Art, music, cocktails, friends... not a bad way to spend an evening in San Francisco. To learn more about the Asian Art Museum's MATCHA, and the full season schedule of events, go
here
. Want to win free tickets? Go
here
. This website is a proud community partner of MATCHA.