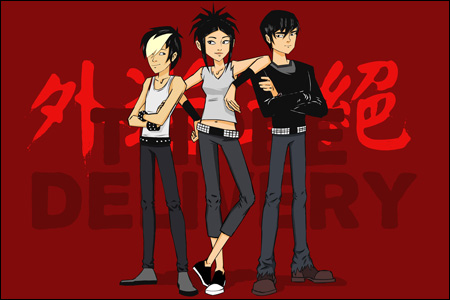 I mentioned
Three Delivery
last summer
, after they first announced it at Comic-Con. It's a new half-hour action-comedy animated series for children, about a group of teenage delivery kids/superheroes(!) set in Chinatown. The series is scheduled to premiere next week, June 27 on the Nicktoons Network. As it's likely that many impressionable youngsters will be watching this show, I pray that it doesn't suck.
I will reserve judgement until I've actually seen the show, but like I said last year when I first heard about it, having more Asians on TV, animation or otherwise, is great... but why does it always have to be Asians who are also secretly trained in the mystical, magical martial arts? Not only do these kids know kung fu, they deliver Chinese food! I'm just saying. At least the characters actually look cool. Check out the
Three Delivery
website
here
. There are also video clips on the
Nicktoons
site.