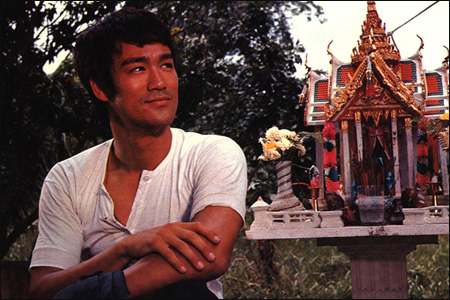 Cool! The billionaire owner of Bruce Lee's final home in Hong Kong is planning to build a museum dedicated to the martial arts legend, opting not to sell the multi-million dollar property, and instead giving in to fans' desire for the site to preserved:
Tycoon to turn Bruce Lee's last home into museum
. (By the way, that's not Bruce's house pictured above.)
Philanthropist hotel and real estate tycoon Yu Panglin had put Lee's two-story, 5,699 square-foot town house in Kowloon up for sale but changed his mind, saying that he would donate the property to Hong Kong's government for use as a museum and memorial to the icon. He's apparently got big plans for the space.
According to Yu's property consultant, he wishes to retain the house as it was, while expanding the property to 30,000 square feet to include a library, a martial arts centre and a movie house to showcase Lee's martial arts philosophy. That's awesome. If this indeed happens, I promise to one day visit this museum and pay homage to Bruce.