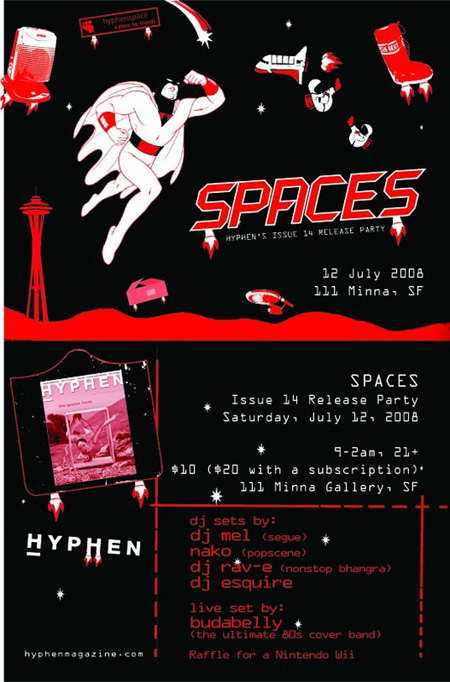 Bay Area friends, our friends at
Hyphen
are throwing a party. In honor of Issue 14, they're inviting you this weekend to a release party:
Spaces
. Saturday, July 12 at 111 Minna in San Francisco. Here are the details:
SPACE out!

Come celebrate the release of Hyphen magazine's Spaces issue and rock out to a live set by 80s cover band, Budabelly, with eclectic beats by DJ Esquire, DJ Mel, DJ Rav-e and Nako.

***raffle and win a Nintendo Wii!***

saturday, July 12, 9-2a
@111 minna gallery < http://www.111minnagallery.com >
21+ w/ID
9-2a | $10 cover ($20 with subscription @ 50% off price list!)

Please RSVP at http://sanfrancisco.going.com/hyphenspaces

featured LIVE set by:
Budabelly (SF's ultimate 80's cover band)

eclectic beats by:
Nako
DJ Esquire (rebel click)
DJ Rav-E (non-stop bhangra)
DJ Mel (Segue)

Be sure to pick up a copy of the Spaces issue to check out our stories on Asians behind bars, John Cho, the Filipino comic invasion and much more of the art, literature and cultural reviews you can't live without.
It's going to be a fun party. And the flyer has Space Ghost on it. That is cool. Have you read the latest issue? Maybe you should subscribe.
Hyphen
actually has a friends and family discount going on right now through July 11. Just click
here
. You get 4 issues for $16 or 8 issues for $28. It's a solid Asian American magazine, and you should be reading it.