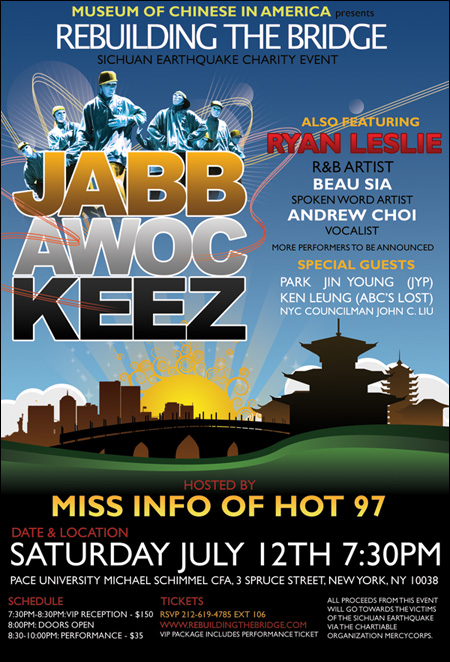 Okay. Make your plans for this event, NYC. The Museum of Chinese in America presents
Rebuilding the Bridge: New York to Sichuan
, a benefit for disaster relief funds established by the charitable organizaiton
MercyCorps
, featuring a performance from
America's Best Dance Crew
winners the JabbaWockeeZ, hosted by Hot 97's Miss Info, and with special guests Ken Leung (
Lost
), Park Jin Young (JYP), and NYC Councilman John C. Liu. Here's the info (which is all basically on the flyer above):
MUSEUM OF CHINESE IN AMERICA

presents

REBUILDING THE BRIDGE

New York to Sichuan

A benefit for disaster relief funds established by the charitable organization MERCYCORPS.

Please join a ground breaking coalition of Asian American performers and not-for-profit organizations as we raise awareness and dollars to help rebuild China's Sichuan region after one the most devastating natural disasters in recent memory. Proceeds will go to the special disaster relief funds established by charitable organization Mercy Corps.

DATE:
Saturday July 12th 7:30pm-10:30pm

LOCATION:
Pace University
Michael Schimmel Center for Performing Arts
3 Spruce Street, New York, NY 10038

HOSTED BY:
Minya Oh, Miss Info of HOT 97

PERFORMANCES BY:

JABBAWOCKEEZ
America's Best Dance Crew winner

RYAN LESLIE
R&B Artist

BEAU SIA
Spoken Word Artist

ANDREW CHOI
Vocalist

VIP RECEPTION SPECIAL GUESTS:
Ken Leung (ABC's LOST), Park Jin Young (JYP), NYC Councilman John C. Liu

SCHEDULE:
7:30PM-8:30PM: VIP Reception - $150
8:00PM: Doors Open
8:30PM-10:30PM: Performance - $35

TICKET SALES:
RSVP 212-619-4785 EXT 106 | www.RebuildingTheBridge.com
VIP Package Includes Performance Ticket

CO-PRODUCERS:
Ron T. Kim & Philip Lam

CO-SPONSORS:
Imaginasian, ICON Philadelphia, Lee's Rehab, Ningin.com

MEDIA PARTNERS:
World Journal, HOT 97, Theme Magazine

COMMUNITY PARTNERS:
A/P/A Institute at NYU, Asian American Arts Alliance, Asian American Film Lab, Asian American Writers' Workshop, AsianCinevision, Asian Pacific Americans for Progress, Asia Society, Bosco Design Group, Coalition of Asian Pacific Americans, Manhattan Neighborhood Network, Ma-Yi Theater and New York Chinese Cultural Center

More performers and sponsors to be announced.
This sounds like an amazing event, benefiting a great cause. And dude, it's the JabbaWockeeZ. Dancing for disaster relief. Mark your calendars. It's going down Saturday, July 12 at Pace University in New York. For more information about the benefit, go
here
.