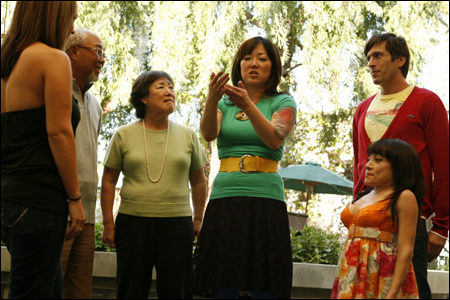 This week at the Television Critics Association Press Tour,
Margaret Cho
talked to reporters about her upcoming "semi-scripted" comedy on VH1,
The Cho Show
:
TCA: Margaret Cho brings television its second all-Asian series
.
The show revolves around Cho's real-life parents (a frequent source of material for her stand-up) and her 3-foot-10-inch assistant Selene Luna. She describes it as "kind of a cross between Madonna's 'Truth or Dare,' 'Joy Luck Club' and 'Little People, Big World.' What the-!?
In truth, the series follows Cho and her family as they improv their way through scripted situations. During the first episode, Margaret tells her parents that a magazine has named her "Korean of the Year," and the show follows the family's trip to San Francisco, where she'll accept the award. More here:
Margaret Cho says new 'Cho Show' promises tomfoolery
.
I'm very intrigued about this show. Hopefully, it'll be so awesome, we'll all forget the suckiness of 1994's
All-American Girl
, Margaret's first attempt to bring the Asian American family to television. Those were dark years.
The Cho Show
premieres on August 21 on VH1.