It's been a long week in Denver, and yesterday was apparently particularly crazy for our bloggers JL and Spamfriedrice, holding it down at the Democratic National Convention. Here's their wrap-up of the convention's historic final day: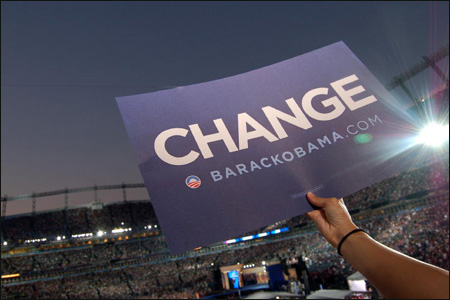 Last night, we felt completely privileged to be at Invesco Field at Mile High to witness history! Shout out to Jaclyn Zimmerman, who is part of the ethnic media outreach team of the DNC, for helping us make sure everything went smoothly for us. We both had goosebumps throughout the night as the stadium celebrated the official nomination of Barack Obama for President and the continuing progress of the Civil Rights movement. It was, after all, the 45th anniversary of the "I Have a Dream" speech by Martin Luther King, Jr., and we cannot deny that AAPIs have significantly benefited from the Civil Rights movement.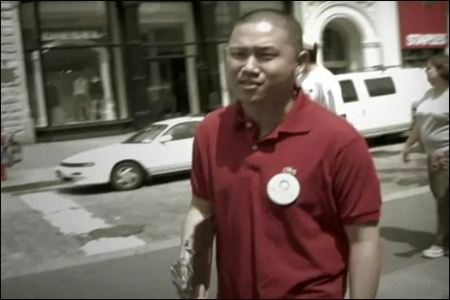 We were also really excited about the presence of Asian Americans during the event. There was a
video
shown before Bill Richardson's speech with appearances by Jin the rapper and Hayne Yoon, an Obama volunteer in Los Angeles.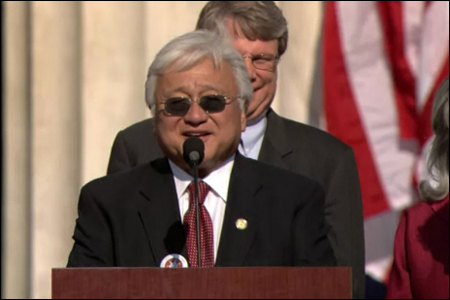 Mike Honda was also part of a group of Vice-Chairs that presented resolutions. Represent!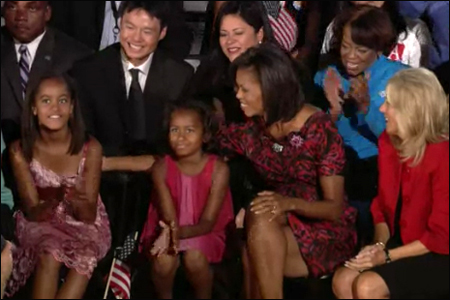 Did you see those Asian people sitting prominently behind the Obama ladies during Barack's speech? That's Obama's sister Maya Soetoro-Ng and brother-in-law Konrad Ng. Yes, if Obama become president there will be Asians in the extended first family. As Maya asked the AAPI Caucus the other day, "Can you imagine the family picture on the White House lawn?" Yes I can.
Here's some contact info on getting involved with AAPI outreach for the Obama-Biden campaign in swing states, from Asian American and Pacific Islander Grassroots Strategy Session on Tuesday:
Iowa: Theresa (tmah@uchicago.edu)
Nevada: Preeti (preetik6@gmail.com)
Texas: Ramey (ramey.ko@gmail.com)
Virginia: Joe (joe@vademocrats.org)
Washington: Mika (mika@wa-democrats.org)
After this week, we're even more excited about the possibilities, and looking forward to November 4th, 2008. With that... we're out! Peace!