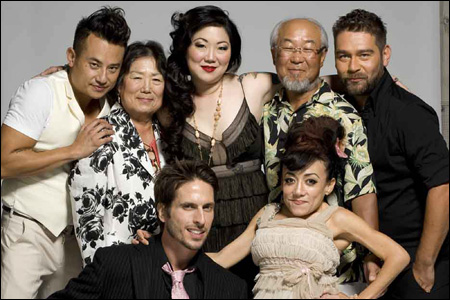 Margaret Cho makes her grand return to television tonight with VH1's "reality sitcom"
The Cho Show
. It looks like it's going to be a very wacky, irreverent, interesting show featuring Margaret and her entourage. It's not exactly a reality show, but a "sitcom starring real people," as Cho describes it. I don't exactly understand what that means, but based on the first episode, it seems to imply that Margaret's parents will be coming over to visit. A lot.
In tonight's premiere, Margaret is invited to accept an achievement award from
KoreAm Journal
. She's apprehensive about the distinction, recalling the criticism she received for 1994's
All-American Girl
—particularly from the Korean American community. Not only was it an awful experience making the show, she had to deal with the hate from her own community. She remembers once being called "the worst thing to happen (to Koreans) since the demilitarized zone." Ouch.
The episode shows her working it out, ultimately deciding to go to the awards gala. I found the "conflict" a bit overplayed for TV, but hey, it makes for interesting television. There's a moment with her discussing the award with fellow comedian Bobby Lee, who tells her that she's the reason he got into comedy in the first place. Seeing her perform, as a Korean American comic, is what convinced him that he could make it in comedy too. It's a cool scene.
Personally, I think Margaret's parents, Seung Hoon and Young Hie Cho, could end up being the breakout stars of
The Cho Show
. Here's a good review of the show from
Los Angeles Times
:
TV review: 'The Cho Show'
. And here's an interview with Margaret:
Margaret Cho: Reality strikes
.
Anywyay,
The Cho Show
premieres on VH1 tonight, but if you can't tune in, or the Tivo's broken, the entire first episode is actually available for viewing online at
Margaret Cho's Blog
. I'm told it's also available as a free download on iTunes.