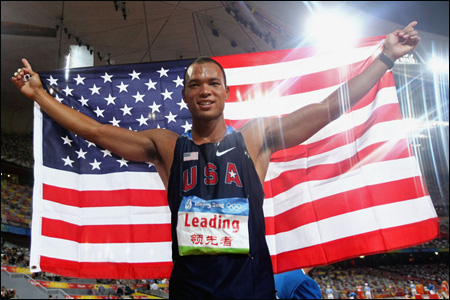 Yeaaaahhh boy.
Bryan Clay
won the Olympic decathlon today, capturing the gold medal for the United States with 8,791 points:
American Bryan Clay wins Olympic decathlon
. Clay beat out Andrey Krauchanka of Belarus, who won the silver medal with 8,551 points, and Leonel Suarez of Cuba, who took bronze with 8,527 points.
The decathlon has to be one of the Olympic Games' most grueling, physically challenging events, testing an individual's speed, strength, skill and endurance in ten events over the course of two days: 100 meters, long jump, shot put, high jump, 400 meters, 110 metre hurdles, discus, pole vault, javelin, 1500 meters.
You might recall that Clay is the guy who burned roughly 8,000 calories and lost roughly 15 pounds
while competing
at the Olympic trials last month. Basically, if you win a decathlon, you're officially a badass. You get
BADASS
printed on your passport, right below your name. So, it's official—Brian Clay is a badass.