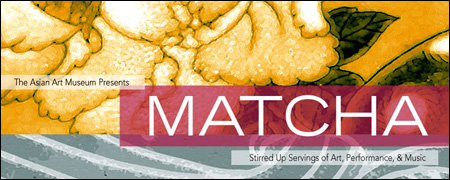 All right, Bay Area friends. Once again, it's time for
MATCHA
, the Asian Art Museum's monthly art/music/mixer series. This is the one I've been waiting for:
Drunken Fist
, featuring a martial arts demonstration from international champions Philip Wong and Zhang Hong Mei, the museum's summer exhibition
Power and Glory: Court Arts of
China's Ming Dynasty
, and fresh tunes from DJ Phatrick. Here are the details:
MATCHA: Drunken Fist
Thursday, August 7, 5:00-9:00 pm
$5 Admission
Asian Art Museum

You've seen Jet Li do it in movies---now watch international champions Philip Wong and Zhang Hong Mei lead members of their martial arts school Pacific Wushu in an electrifying jaw-dropping performance of fierce fighting infused with complex movements, speed, and artistic expression.

View our summer exhibition Power & Glory: Court Arts of China's Ming Dynasty, jump on guided gallery tours of Asian weaponry, make a rank badge or brush painting, tune in to a talk on shaolin martial arts, drop in on a tai chi demonstration (or try it yourself), sip on a cocktail with friends, and "kick it" with DJ Phatrick (of APEX Express and Native Guns) who'll be spinning a fresh mix of hip hop, funk, and soul.

MATCHA is the perfect way to get your monthly arts and culture fix. Watch performances, stroll the galleries, create art, mingle over cocktails, and enjoy music.
Check out the season schedule.

Want to win tickets? Click here.
Click here to watch our MATCHA 2008 trailer!
If you're on Facebook, be a part of our group.

P.S. - Were you at our last MATCHA? Please fill out this survey. We'd love to hear from you.
Wushu, booze and tunes. Hey, just another night out for you and your friends. Good times. It's all happening this Thursday, August 7 at the Asian Art Museum in San Francisco. For more information about the event, visit the museum's website
here
.