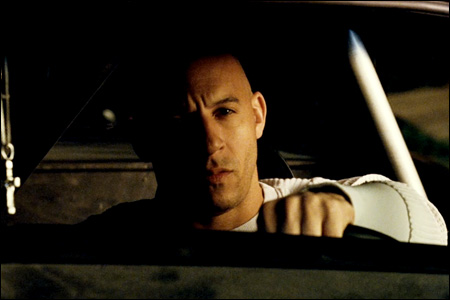 The trailer for
Fast & Furious
recently hit the internet. Watch it
here
. The movie, directed by Justin Lin, is the fourth installment of the franchise, and brings back original stars Vin Diesel and Paul Walker. All things considered, the trailer is pretty badass, and I'm actually kind of excited to see it now.
Let's be real here. A trailer like this promises a very special no-brainer kind of movie experience—and no one is going to confuse
Fast & Furious
with art cinema. But as big, loud, auto-crazy summer blockbusters go, this is a pretty sweet trailer. No glimpses of Sung Kang as Han, but hopefully we have something to look forward to.
The title is kind of weak.
Fast & Furious
? I don't get it. I'm sure a great deal of thought and strategy went into taking out "the" and "the." Sure. Ultimately, I doubt anybody's really going to care. But here's my title suggestion:
F#@%in' Fast F#@%in' Furious
.
F4
, for short. Are you reading this, Justin? Put that on a poster. Anyway, the movie hits theaters in summer 2009.