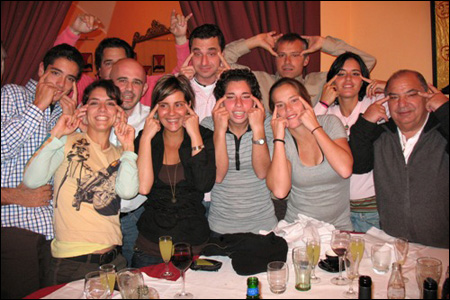 Oh snap! Wait a minute. Just in case you can't get enough of Spanish athletes pulling the ol' chink-eye...
Gawker has uncovered another photo, this time of Spain's 2008 Federation Cup Tennis team, doing the same slant-eyed pose:
Spanish Tennis Team Also Strikes "Chinky-Eyed Chinaman" Pose!
More here:
Second Spanish team photographed making 'slit-eyed' gesture
.
The
photo
can be found on the
Spanish Tennis Federation website
. Spain apparently beat China to move into the Fed Cup finals. And as we all know, there's only way to celebrate a win like that. All together now. Chink-eyes! Purely done out of respect and affection, of course. Making their nation proud. (Except for that one dude in the back sort of doing kind of a limp rock 'n' roll thing.)
That's racist!
UPDATE: Mainstream press is picking up on this one too:
Another Spanish team discovered making eye-slant gesture
.