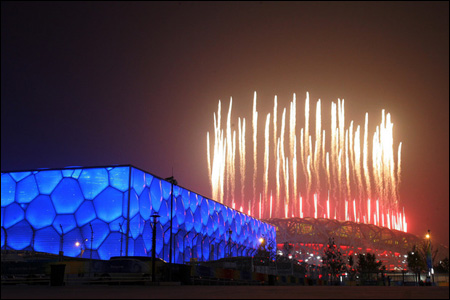 I watched the broadcast of the Opening Ceremony of the Beijing Olympics like everyone else. And it was awesome. Really, really stunning. View some fantastic photos
here
.
Meanwhile, some bizarre, tragic news... The father of a former U.S. Olympian was murdered at a Beijing landmark on Saturday:
Father of former Olympian killed in Beijing
. Todd and Barbara Bachman of Lakeville, Minnesota—parents of 2004 volleyball Olympian Elisabeth "Wiz" Bachman and in-laws of U.S. men's volleyball coach Hugh McCutcheon—were attacked by a Chinese man while visiting the 13th-century Drum Tower.
The U.S. Olympic Committee confirmed that Bachman died from knife wounds and that Barbara Bachman suffered life-threatening injuries. She and their Chinese tour guide, who was also injured in the attack, were being treated in a Beijing hospital.
According to the Xinhua News Agency, the assailant, 47-year-old Tang Yongming, leapt to his death from a 130-foot-high balcony on the Drum Tower, just five miles from the main Olympics site. There was no indication that he knew that his victims had any connection to the games. It appears it was just a senseless, violent act by a deranged man.
On a more inspirational note, here's a story on how the Games are a symbol of hope and recovery for the millions who suffered and lost during the devastating Sichuan earthquake:
An Olympics of hope for earthquake victims
.