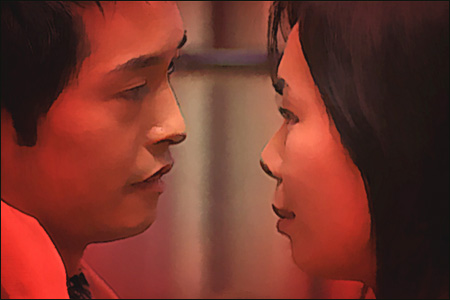 Opening in limited release today from Gigantic Pictures, David Kaplan's rotoscope-animated fairy tale
Year of the Fish
. It's been floating around on the festival circuit since its world premiere at the 2007 Sundance Film Festival, though I only recently had the chance to check it out.
Basically, the film is a modern-day take on the Cinderella fairy tale (based on an old Chinese version of the story) set in New York City's Chinatown. An Nguyen plays Ye Xian, a girl who travels to New York to try to make some money for ailing father back home in China. Upon her arrival, she realizes that she's being forced to work in a seedy massage parlor, run by the wicked Mrs. Su (Tsai Chin) to pay off her debt.
But Ye Xian refuses to do the requisite sex work for the clients, so she is made into a menial servant and has to do all the laundry, cleaning, shopping and cooking—a Cinderella. She finds solace in a magical fish (who actually narrates the story) given to her by the strange neighborhood hunchback Auntie Yaga (Randall Duk Kim). Rounding out the cast is Ken Leung as lovelorn local jazz musician.
The most distinct aspect of
Year of the Fish
is its unique visual style. The entire film is rotoscope animated, like
Waking Life
and
A Scanner Darkly
, where live actors are "traced" by animators in post-production. For the most part, it works, and makes for a very interesting visual experience. At times, it's totally mesmerizing and enhances the fairy tale, dreamlike quality of the story. However, in other moments, it gets kind of distracting, and takes you out of the movie.
Outside of the animation, to be honest, the movie had this "so what" quality to me. I wasn't all that thrilled by the massage parlor aspect of the story, as educational as it was. At some point, I started to wonder how much I'd have to watch of people being awful to this poor girl, before everyone finally got what they deserved. There were also a lot of actors with really annoying, inauthentic fake Chinese accents—a big movie pet peeve of mine.
Overall, I really wanted to like this movie, but I just found it kind of underwhelming. But it is visually interesting, and has a handful of charming moments. And Ken Leung, in the small role that he has here, is great. Like everything else I've seen him in lately. Anyway, the movie opens in theaters today in New York, San Francisco and Berkeley. For more information, visit the website
here
.