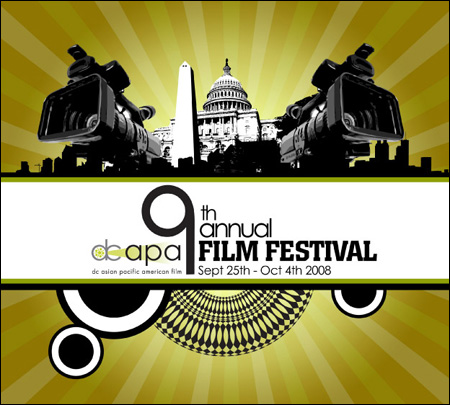 All right, DC friends. The
9th Annual DC Asian Pacific American Film Festival
begins tonight with the Opening Night presetation of Richie Mehta's
Amal
at Landmark's E Street Cinema. Here's a description of the movie, according to the festival website:

A New Delhi auto-rickshaw driver patiently endures browbeating insults from his passenger-- a surly, impoverished old man--before agreeing to accept less than the proper fare. "You're an idiot," the passenger taunts before pensively adding, "You'll die broke."

Amal Kumar, the rickshaw driver, is a poor man living a simple, honest life in New Delhi. Content to live humbly and uphold his father's ideals, he poses no threat to anyone. That is, until that one particular elderly stranger is so inspired by Amal's purity of spirit that he privately maneuvers to make Amal the financial envy of many, much to the dismay of his family who would be denied upon his death. So stir the waters around Amal in Richie Mehta's endearing film about happiness, character, discovery and the possibility of goodness.

This film, about a pure man and his effect on the people around him, is filled with deep and engaging characters, anchored by the elegant portrayal of title character by Rupinder Nagra, a talented television actor in Europe and Canada. Nagra is ably supported by a standout cast of film and television veterans, including Naseeruddin Shah, Roshan Seth, Koel Purie and Vik Sahay, who currently appears in NBC's Chuck. The story is complemented by the film's rich visual presentation that can't help but make you feel viscerally immersed in its characters and events.

With Amal, Richie Mehta offers us many things, among them: likeable characters, an intriguing story, and beautifully expressive images. But most important of all might be the life-affirming feeling of rooting for the good guy. In this case, a truly good guy.
Director Richie Mehta and star Rupinder Nagra will be in attendance. You can purchase
tickets
online for the screening/reception up until 5:30pm ET today. After that, any available tickets will be sold at the door.
The festival continues on through next week, with all sorts of kickass
films
and
events
. I recommend checking a shorts program or two, or maybe a feature like Ron Morales' gritty, gorgeous
Santa Mesa
, or Amyn Kaderali's hilarious, awkward
Kissing Cousins
(and stay for the afterparty). Get out there, bring along a friend or two, and support Asian American cinema.