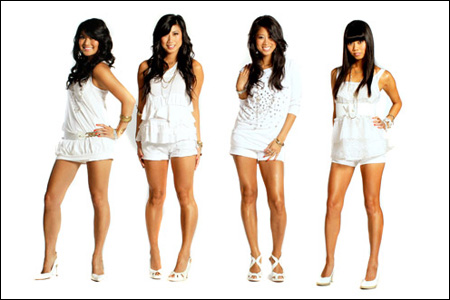 With
America's Best Dance Crew
over for the season, what will host Mario Lopez do now? Have no fear, he is back the network's newest show
MTV's Top Pop Group
. Goodness. I'm glad to see that A.C. Slater has found his calling. Yes, this season, nine groups will vie for the coveted top pop title. Wait, hasn't this been done before?
Anyway, among the pop hopefuls, there's a group of Asian American sisters from Los Angeles—Nadia, Felicia, Celia and Daria, aka
Jazmin
. I watched them on the
casting special
, and they've definitely got the chops the get the right exposure and make a big impact on the show. But the competition is fierce.
Could these sisters become the first modern Asian American pop group to truly bust through the mainstream? Some have certainly toed the line, and others have come close, but none have reached that bona fide breaktrough, mainstream chart-topping status. I'm skeptical, though not because I don't think they have what it takes.
Maybe Jazmin will be the one. They certainly make it clear that they want to be, and they're representin' for the Asians. Learn more about them on the MTV site
here
. Also, visit their official site
here
and their MySpace profile
here
.
MTV's Top Pop Group
premieres tonight, September 11.