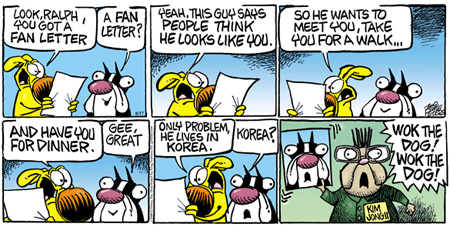 Kimchi Mamas
first blogged about this a couple of weeks ago...
What kind of messed up nonsense is this? This
Mother Goose and Grimm
comic strip is a couple of weeks old, but dude,
what the hell?
Come on! Really? They really had to go there with the idiotic Korean dog-eating joke? And then take it one step fruther with the Kim Jong Il caricature?
I'm no fan of Kim Jong Il, and honestly, I welcome any kind of intelligent lampooning of his evil dictator craziness. Because the man is nuts. But this is a one-note jab, a cheap laugh that squarely aims for Kim Jong Il's ethnicity. And then seen by millions of Americans, in newspapers nationwide.
That's racist!
(Thanks, Toni.)