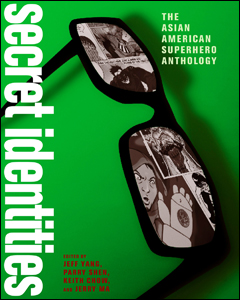 Some very cool comic book stuff coming to your town very soon... For a while now, we've been anticipating the publication of
Secret Identities
, the first-ever graphic novel anthology of Asian American superhero stories. We've still got half a year to wait, but it sounds like it's going to be pretty kickass.
It's a groundbreaking work brings together many of the top Asian American creators in the comics industry—including Gene Yang, Bernard Chang, Greg Pak, Sonny Liew, Greg LaRocque, Christine Norrie, and Francis Tsai—as well as new and established creators from film (Mike Kang), television (Keiko Agena) and literature (Jamie Ford). They've been hard at work and will have some very cool stuff to share when it finally arrives in April 2009. We already got a short
preview
last year of what's to come.
In the meantime, the
Secret Identities
folks are in the midst of organizing a
book tour
, and are seeking opportunities at colleges/universities to host a book event during APA Heritage Month from April to May 2009. Possible programming includes:

Showcasing a traveling gallery of original artwork from celebrity contributors (James Kyson Lee, Sung Kang, Kelly Hu, Aaron Yoo, Beau Sia, Yul Kwon) that will be auctioned off for Cartoonists Across America - a literacy program.

- A 30 min documentary, highlighting a sampling of the stories as animated films.

- Discussion on the stories inspired by actual events/people (internment camps, Atomic bombs, Vincent Chin, Wen Ho Lee, Transcontinental Railroad, Vietnam Airlifts).

- An interactive workshop where participants "audition" for roles portrayed by AA's on film/tv to demonstrate the need for projects, like SI -- to create strong, 3-dimensional heroes and role-models.

- Q&A panel with editors/local contributors and book signing.
They've already started to fill up some dates. Maybe your school is looking for something a little new and different for its Heritage Month programming this year. These folks are definitely doing something new and different. If you're interested, fill out a request form
here
or inquire at info@secretidentities.org. Be the cool comic book geek who brings
Secret Identities
to your school!
It's still coming together, but for more information about the tour, go
here
. Also, read this cool Xanga entry from Parry Shen, one of the masterminds behind
Secret Identities
:
BOOK TOUR TIME
. And for general information about the book, check out the
Secret Identities
website
here
.