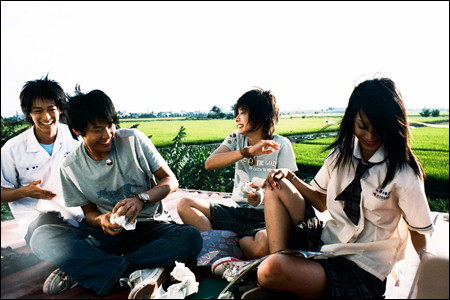 I just heard that the third annual
Taiwan Film Festival
is returning to Bay Area theaters this weekend, showcasing a carefully programmed selection of the Republic of China's best contemporary films. With a focus on "Youth and Redemption," the festival is hosted by the University of San Francisco on October 16-17, then at Stanford University on October 17-18, then moves on to Seattle, Eugene and Las Vegas. Here's some details about the film programs:
*TFF at University of San Francisco October 16-17*

On Thursday, October 16, the festival opens at University of San Francisco's Fromm Hall (corner of Parker and Golden Gate Ave.) with director Cheng Wen-Tang's SUMMER'S TALE. A selection of the 2007 Pusan Film Festival, SUMMER'S TALE begins as a story of youthful passions, and evolves to focus on the transformative power of friendship. Enno Cheng, the director's daughter, provides a stunning performance as a teen songwriter who finds herself pulled into the romantic orbits of a classmate and teacher, all the while fighting a hearted condition.

Following the screening and Q&A with Director Cheng, Enno, who is also a celebrated pop star in Taiwan, will perform along with musician KK who composed the soundtrack to SUMMER'S TALE.

On Friday, October 17, Ho Chao-Ti's fascinating documentary THE GANGSTER'S GOD will make its US premiere. At every Lantern Festival in Taidong, a group of men strip bare above the waist, and wearing nothing but red shorts, stands on a sacred palanquin, allowing people to pound their bodies with bottle rockets, singeing their skin. They are believed to be human incarnations of the god Handan. The "Scorching of Handan" has in recent years become a major event in eastern Taiwan. Those who take part in the ritual have always been shrouded in mystery, and rumored to be members of the gangster underworld. This stunning documentary enters the heart of these men's universe, recording their dramatic lives.

A Q&A with director Ho Chao-Ti will follow.

*TFF at Stanford University October 17-18, 2008*

Stanford University will host four films from the Taiwan Film Festival on October 17-18. All screenings will take place at Stanford's Cubberly Auditorium (485 Lasuen Hall).

The Stanford selections will open with SECRET, the directing debut from actor Jay Chou (CURSE OF THE GOLDEN FLOWER). A charming romance also starring Chou, SECRET was an official selection of the 2008 San Francisco International Film Festival.

Two documentaries will follow. In Lin Yu-Hsien's ELEPHANT BOY AND ROBOGIRL, two young children, though suffering from tremendous physical handicaps, fight to live life to the fullest. Lee Jong-Wang's FOR MORE SUN chronicles the efforts of a group of young Taiwanese engineers as they build a hand-made solar car to complete in the World Solar Challenge in Australia.

The festival at Stanford concludes with Lin Jing-Jie's THE MOST DISTANT COURSE, winner of the International Critic's Week Award at the 2007 Venice Film Festival. The movie interweaves the stories of three lost souls as they travel through Taiwan's beautiful Eastern shore in search of solace, while reminding the viewer of the elevating power of sound and music. Lin Yu-Hsien, Lee Jong-Wong and Lin Jing-Jie will be in attendance.

With its unique and rich cultural heritage, Taiwan has produced such internationally recognized directors as, Ang Lee, Hou Hsiao-Hsien and Edward Yang. During TFF 2008, viewers will be treated to the next generation of great directors from Taiwan and have a chance to ask about their creative process.
The festival is presented by The Chuan Lyu Foundation, Asia Society, the Taipei Economic and Cultural Office in San Francisco. Admission is free and screenings are open to the public. For more information about the Taiwan Film Festival, including the full schedule of films, go to the website
here
.