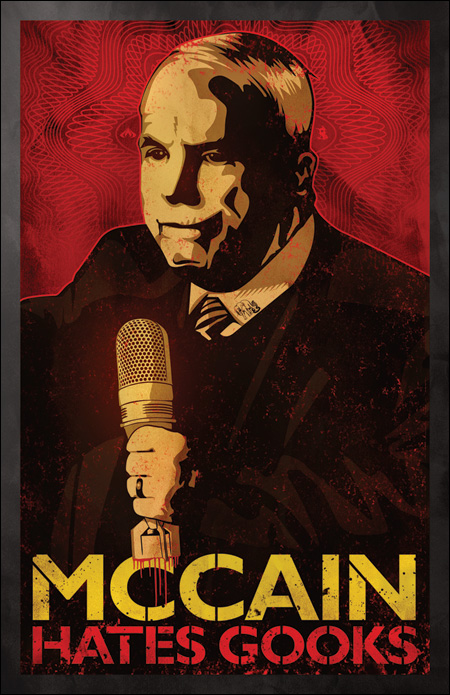 Maybe you've heard. John McCain hates the gooks. He will hate them as long as he lives. He said so himself back in 2000, to a busload of reporters on the campaign trail:
"I hate the gooks. I will hate them as long as I live."
I don't know about you, but it sickens me that a man who would use this kind of hate language could become President of the United States. I don't care what context he was saying it in (he was referring to his captors during the Vietnam War). It's unforgivable... yet somehow this man is the Republican nominee for President.
That said, a recently launched website is calling attention to McCain's use of the slur, and his history of overt racism, because mainstream media certainly hasn't:
McCainHatesGooks.com
. There isn't a lot on the site, but you can download a hi-res version of the
logo image
above and create your own content to spread the word.
To celebrate the launch of the website, they're throwing launch party in San Francisco:
"McCain Hates Gooks" Campaign Kick-Off Party
. Friday, October 17 at the Ez5 Bar. McCain hates gooks. Get together with some folks who hate him back. "McCain Hates Gooks" propaganda merchandise will be available at the event. For more information about the event, go
here
.