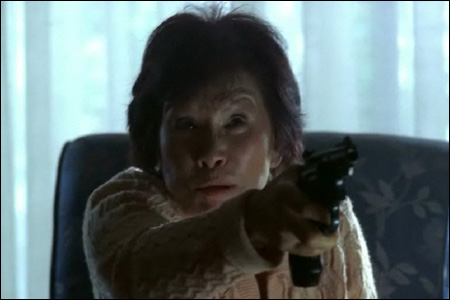 There must be a lot of
CSI
fans out there... I heard from about twenty people telling me that last week's crime scene investigation was set in Las Vegas' Koreatown (I didn't even know that Las Vegas had a Koreatown. Wait. Does it?) which means they had a bunch of Asian characters populating the show for a moment. You know, the Koreatown Episode!
Guest stars included James Kyson Lee, Sung Kang, Lanny Joon, Lauren Tom, and series regular Archie Kao. In the episode, the CSI team investigates a shooting at a neighborhood party, in which the mother and uncle of a small boy are murdered. But of course, nobody is talking to the cops because half the people at the party can't speak English... and just have a general distrust of the police.
You can actually watch the episode on the CBS website
here
. From what I can tell, the story involves eyelid surgery, Korean gangsters, a HIV-positive kid and his prostitute mother. I didn't get to watch the whole episode, but what I saw just got worse and worse. And the reviews I heard from the rest of you weren't very positive.