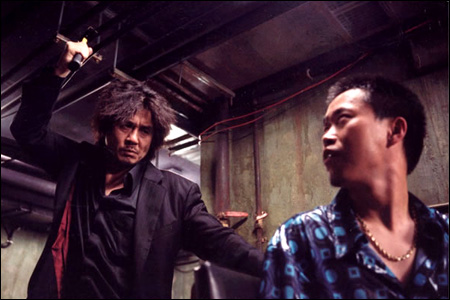 This crazy bit of news has been floating around all the movie sites today, and it's a doozy... According to
Variety
, Steven Spielberg and Will Smith are in early discussions to collaborate on a remake of the South Korean revenge thriller
Oldboy
:
Spielberg, Smith in talks for 'Oldboy'
.
I'm just shaking my head at this news. No. Oh man, please. No.
We knew a remake was inevitable. It might've taken a while, but a remake of
Oldboy
was coming sooner or later. It was just a reality of industry. Take a high-concept, critically-acclaimed, hit Asian film, and turn into a big-budget Hollywood studio movie (wiping out all the Asian-ness in the process).
This particular remake has been in the works for several years, with all sorts of names attached—most notably
Better Luck Tomorrow
director Justin Lin—but hasn't been able to get off the ground, for various reasons. Which was fine, since I've never really been eager to see an American remake of
Oldboy
.
But Steven Spielberg and Will Smith? Are you kidding me? Don't get me wrong, Spielberg is responsible for some of the greatest movies of all time. And while he's not my favorite actor, you can't really hate a guy like Will Smith. But this movie just feels like the wrong fit. If you've seen
Oldboy
, you just know what I mean.
In
Oldboy
, a man gets kidnapped and held in a shabby cell for 15 years without explanation. Suddenly, he's released and given money, a cell phone and clothes and is set on a path to discover who destroyed his life so he can take revenge. If you haven't seen it, I highly recommend checking it out, though be warned:
it's seriously disturbing
.
The original, directed by Park Chan-wook, is dark, gritty and twisted—qualities I do not immediately associate with Spielberg or Smith's work. And the Fresh Prince is no Choi Min-sik. Not even close. I can't even imagine what this is going to look like. Is this really going to happen? Expect disaster.