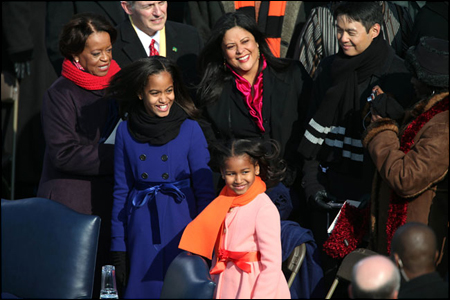 After Tuesday's historic presidential inauguration, I got a lot of traffic coming to the site from search queries about
"the Asian guy"
sitting behind the Obamas during the ceremony. I guess a lot of people are curious about the random Asian guy getting so much TV face time.
Let me explain, curious visitors. That's no random Asian guy. That's Konrad Ng, husband to Barack Obama's sister, Maya Soetoro-Ng. Yes, he is the First Brother-in-Law. Recognize, suckas! You might remember Stephen Colbert noting Konrad's presence at the
Democratic National Convention
.
Here's a good
New York Times
article on the many diverse faces in the new first family:
In First Family, a Nation's Many Faces
. And here's a cool graphic explaining the Obama famly's multicultural roots:
A Diverse First Family
.