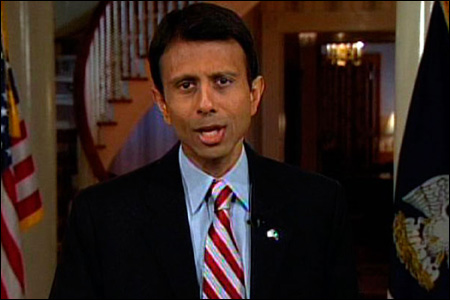 It was supposed to be Bobby Jindal's big moment, his coming out party, his time to shine... instead, it's looking like it was resounding flop. The Louisiana Governor was chosen to deliver the televised Republican response to Obama's first speech to Congress on Tuesday night.
It was the GOP putting Jindal on a national platform and positioning him as a fresh new face and rising star to watch in the party. Unfortunately, it looks like that star took a huge nosedive after the speech:
Governor Jindal, Rising G.O.P. Star, Plummets After Speech
.
Conservative commentators were apparently among the harshest critics, calling his delivery "animatronic" (the comparisons to Kenneth from
30 Rock
were apt), his prose cheesy and his message uninspired. And these were critics from his own party, across the board, unimpressed. Ouch.
I wonder what this means for Jindal's future in the GOP. The shine has sort of worn off, at least for the moment. More here:
How Bad Was Jindal?
I particularly enjoyed Disgrasian's take on the Republican response:
Bobby Jindal: EPIC FAIL
.