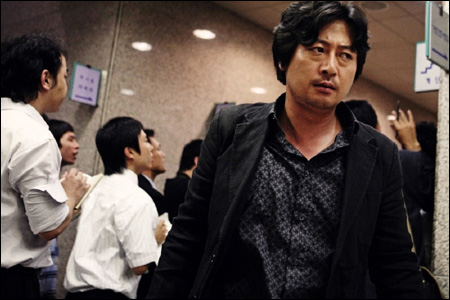 All right. If you're headed out to the
San Francisco International Asian American Film Festival
, here's some cool stuff to check out... Tickets are no longer available online, and some of the screenings are completely sold out, but with some planning, patience and tenacity, you can probably score some tickets waiting in the rush line.
The Chaser
: Na Hong-jin's gritty, brutal thriller about murder, vengeance and one man's quest for justice was a smash hit in South Korea. I've been dying to see this one. The movie's already (unfortunately) been tapped to be remade by Warner Brothers.
Tokyo Sonata
: Acclaimed Japanese director Kiyoshi Kurosawa returns to SFIAAFF with his latest film, a portrait of a modern Japanese family stifled by their inability to communicate honestly with one another -- a winner at the Cannes Film Festival.
Half-Life
: Jennifer Phang's feature film debut
Half-Life
, a selection at last year's Sundance Film Festival, has been described as "an Asian
American Beauty
set against the backdrop of global decay and illuminated by splashes of
Waking Life
-style animation."
The Speed of Life
: I've been really looking forward to see director Ed Radtke's latest ever since I saw this cool
trailer
last summer. It just looks like a quirky and eclectic story with an offbeat cast of really wonderful, memorable characters.
Directions in Sound
: And don't forget SFIAAFF's annual kickass music showcase of rising stars and underground sounds, featuring Nosaj Thing, Trackademics, Mochipet, Kush Arora, DJ Zita, Tokyo Component, DJ Pickpocket and Citizen Ten.