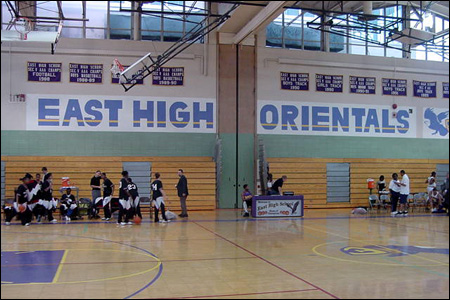 When I first saw this, I thought it had it be a joke... but it's true. The actual mascot of
East High School
in Rochester, New York is the
Orientals
. Not the Tigers, or the Mustangs, or the Wildcats. The Orientals. So, say, during football season, or basketball season, opposing teams play against the East Orientals. You can even get your East Orientals apparel
here
. However, East's mascot is an eagle. What?
Some Googling reveals that there's another
East High School
in Akron, Ohio -- also known as the home of the Orientals. I'm not making this up! Believe it or not, their mascot is Chang the Dragon. Seriously. To top it all off, the school's
website
is wonderfully adorned with our favorite faux Asian font. They've apparently been the Orientals for many, many years... and everybody's cool with it. I love America.