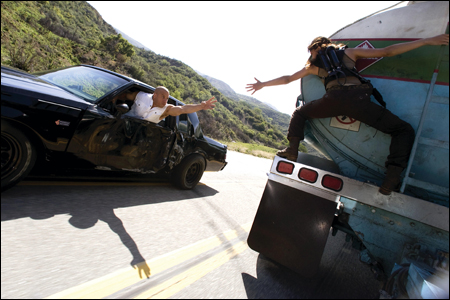 Welcome to the big time, Justin Lin. The really big time. The director has definitely proven he's got the skillz to pay the billz.
Fast & Furious
, the fourth film in the auto action franchise, earned an estimated $72.5 million at the box office this weekend -- the biggest opening weekend so far this year:
Fast & Furious' accelerates to $72.5M opening
.
The movie also set a record for an April release, easily passing the previous best of $42.2 million set by
Anger Management
in 2003. Ironically, if I'm not mistaken,
Better Luck Tomorrow
opened in limited release that same weekend in 2003, beating out
Anger Management
with the highest per screen average.
It's also a substantial victory for Universal, defying the expectations of those who doubted the idea of a fourth film. It was a smart move to open the movie in April, steering clear of the crowded summer blockbuster season. More here:
'Fast' wins weekend with $72.5 mil'
.