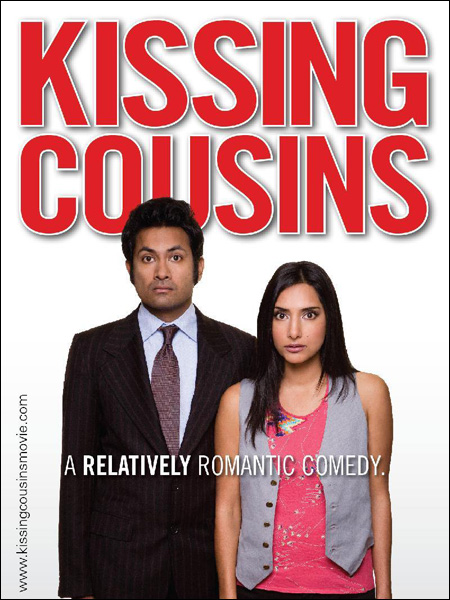 Okay, this is for film fans in California... Amyn Kaderali's indie romantic comedy
Kissing Cousins
opens today, Friday, april 24, at the
Naz 8 Cinemas
in Fremont (in Bay Area) and Artesia (in So. Cal). I caught this movie last year when it was the Centerpiece Presentation at the Los Angeles Asian Pacific Film Festival, where it played to a packed house.
Samrat Chakrabarti is Amir, a "Relationship Termination Specialist"... basically, he breaks up with people. Or rather, breaks up
for
people, for a fee. Really good at that, but not successful when it comes to his own love life. Until Zara (Rebecca Hazlewood), his gorgeous, charming cousin comes along. Wait. What?
The film is a funny, fresh take on the Desi romantic comedy that manages to be cute and sweet while at the same time completely awkward and uncomfortable... which equals some great laughs.
It's a crowd pleaser, thanks in part to the performances from the movie's two attractive leads, as well as its great supporting cast, which includes Gerry Bednob, David Alan Grier, and P.J. Byrne. Even Jaleel White. Yes, Urkel.
So... if you happen to be near Artesia or Fremont this weekend, buy yourself and ticket for
Kissing Cousins
. You can catch
Obsessed
some other time. And spread the word! Indie film distribution is not easy, and Amyn and Co. could use all the help they can get. Watch the trailer, and learn more about the movie, at the
Kissing Cousins
website
here
.