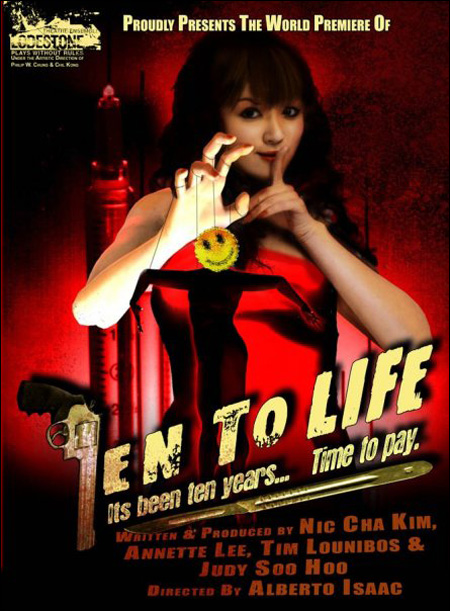 Theater fans, this is it... The critically-hailed Lodestone Theatre Ensemble kicks off its tenth and final season with the world premiere of
Ten to Life
, four one-act plays written and produced by Nic Cha Kim, Annette Lee, Tim Lounibos and Judy Soo Hoo, and directed by Alberto Isaac. It runs May 2 - June 7 at the GTC Burbank.
This being their final year, they've gathered together some of the writers who have been an important, integral part of the company, and asked them to create a show celebrating a decade of Lodestone -- four twisted one-acts touching on the bizarre and unnatural. Here are some more details:
LODESTONE THEATRE ENSEMBLE
under the artistic direction of Philip W. Chung & Chil Kong
proudly presents the world premiere of

TEN TO LIFE
Written & Produced by Nic Cha Kim, Annette Lee, Tim Lounibos & Judy Soo Hoo
Directed by Alberto Isaac

Starring: Peggy Ahn, Feodor Chin, Ewan Chung, Elpidio Ebuen, Emily Kuroda, Jully Lee, Janet Song, Carin Chea, Vincent Gabucan, Junko Goda & Joon Lee

A census agent exposes a family's perverse, hidden secret...
A desperate loser turns to experimental surgery to seduce his high school crush...
A happy homemaker struggles against an ancient evil that lurks in plain sight...
A controlling psychologist must protect his life's love from her memories...
Lodestone kicks off its final season with four twisted one-acts touching on the bizarre and unnatural.
It's been ten years... Time to pay.

May 2-June 7, 2009
Friday & Saturday 8pm, Sunday 2pm
Low-Priced $8 previews, April 30 and May 1, 8pm

$16 general admission
$14 students and seniors (w/valid ID)
$12 (groups of 10+)
All Sunday matinees (except June 7) are pay-what-you-can ($1 minimum)
$25 May 2 opening night gala performance (w/post-show reception)

GTC Burbank
1111-B W. Olive Ave.
Burbank, CA 91506

The theatre is in George Izay Park between S. Victory Bl. and N. Griffith Park Bl. Park near the jet plane at 1111 W. Olive and walk past the Olive Recreation Center. The theatre is behind the rec center; the entrance faces the softball fields.
Looks like it's going to be a really interesting show, with cool, crazy plays by Lodestone's veteran writers. They're definitely going out with a bang. For more information, call the Lodestone Theatre Ensemble hotline at (323) 993-7245 or visit the website
here
. Also check out the Facebook event page
here
.