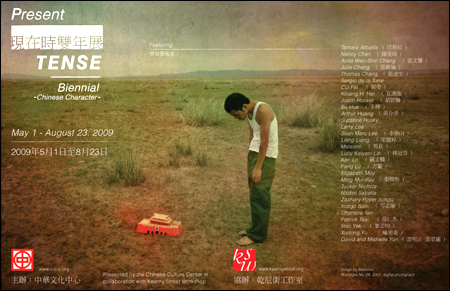 I recently heard about this interesting contemporary art show that's happening in San Francisco, running May through August:
Present Tense Biennial: Chinese Character
. Guest curated by Kevin B. Chen from Intersection for the Arts, the show features work by 30 young contemporary artists displayed at both the
Chinese Culture Center
and in storefront windows around Chinatown. Details:
PRESENT TENSE Biennial: Chinese Character
31 artists reflect on and reinterpret contemporary Chinese culture

Presented by the Chinese Culture Center in collaboration with Kearny Street Workshop, this biennial exhibition showcases vibrant and diverse perspectives on contemporary Chinese culture. Featuring artists from the Bay Area and beyond, the show includes a wide array of media at the Center's main gallery and in storefronts throughout Chinatown.

Curated by Kevin B. Chen with Abby Chen & Ellen Oh.

Chinese Culture Center
750 Kearny Street, 3rd Floor
San Francisco, CA 94108
www.c-c-c.org
415-986-1822

Satellite Installation throughout Chinatown:
55 Columbus Street
664, 665 and 667 Clay Street
17 Walter U. Lum Place
704, 708, 701 and 716 Kearny Street

May 1 – August 23, 2009

Gallery Hours: Tuesdays – Saturdays 10 am to 4 pm
Sundays 12 noon to 4 pm

ADMISSION: Free
Some of the artists include Ken Lo, who is doing a storefront installation about a fake shoe line called K Lo; Fang Lu, who has a video piece called "Straight Outta HK"; Thomas Chang, a photographer who documented a half-constructed, now abandoned Chinese theme park in Florida; and Sergio de la Torre, who has a video piece he shot in Tijuana with Mexican-Chinese teens.
It all revolves around a contemplation of what Chinese culture means today. I was looking through some of the online gallery images, and it looks like it's going to be a really cool, fasinating exhibition. And it's all on view, free to the public, May 2 - August 23. For more information, go to the Present Tense Biennial website
here
.