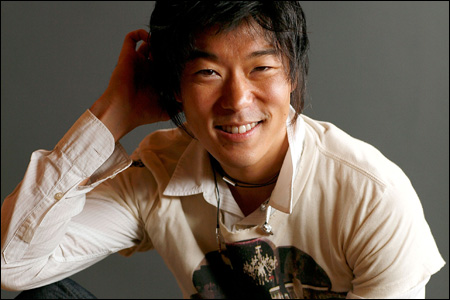 Aaron Yoo
Age: 30
Actor
Why he's influential: Because he's bringing a "regular Asian guy" sensibility to Hollywood. In a few short years on the scene, actor Aaron Yoo has built a solid resume of roles, quickly achieving "hey, it's that guy!" status on a number of high-profile, largely youth-oriented Hollywood studio and indie projects.
While he started out with a handful of TV credits, movie audiences first got a glimpse of Aaron as the jokey best friend to Shia LaBeouf in the 2007 hit
Disturbia
. I swear, the Monday after the movie opened, this blog got a considerable spike of web traffic from people searching for "Aaron Yoo Disturbia." He definitely left an impression.
Since then, you've seen him popping up in independent fare like
Rocket Science
and
The Wackness
, but also adding a little color to the whitewashed
21
, playing bandmate to Michael Cera in
Nick & Norah's Infinite Playlist
and getting killed by Jason in
Friday the 13th
. Hopefully, this doesn't mean he's building a career on wisecracking buddy/best friend roles.
If you ask me, I think Aaron's most interesting performance thus far has been as Japanese American ace pitcher Lyle Nomura in Desmond Nakano's historical internment drama
American Pastime
, where he shows off his chops as a leading man while telling a moving slice of Asian American history.
But Aaron's just getting started. Named one of
Entertainment Weekly's
"Hardest Working Actors" last fall, you'll next see him in the indie flick
The Good Guy
, the action flick
Gamer
, and, believe it or not, as father to Lindsay Lohan's fake baby in
Labor Pains
. He's bringing a normal, everyday Asian face to Hollywood in a normal, everyday way.
See the rest of the 30 Most Influential Asian Americans Under 30
here
.