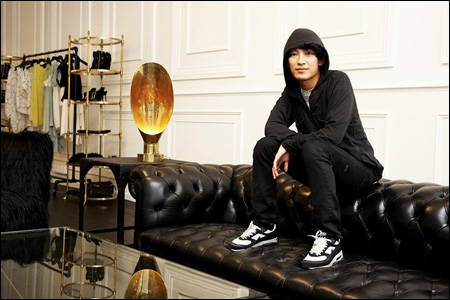 Alexander Wang
Age: 25
Fashion Designer
Why he's influential: Because he's a fashion prodigy. No designer this young should possess this much talent, or a career that has accomplished so much in such a short span of time. But
Alexander Wang
has done it, basically bringing a hotness that has blown the lid off the fashion industry. So I'm told.
I'm going to take the lazy route now and just post Alexander Wang's official bio in lieu of a proper entry. Because it's been a long week, and to be honest, when it comes to serious conversations about fashion, I'm not going to pretend I know what I'm talking about. That said, it's pretty clear this guy knows what he's doing:
"Anyone can get all dressed up and glamorous, but it is how people dress in their off days, that are the most intriguing. It's during these in between, wayward days when a person's tru style emerges from their everyday life, forming the basis of Alexander Wang's collection where clean, classic, luxurious and refined silhouettes are introduced to an urban street provocative ideal. Like the collection itself, the girls he dresses stand out, but not in the obvious ways. More like the black sheep in a crowd -- inspiring, surprising and slightly mysterious.
The directive in Alex's vision is upholding your own individuality, and breaking the conventional idea of a predictable uniform. A tee shirt and jeans can be just as sexy and stylish as an evening gown. The ways in which his clothes are unabashedly styled and worn are as imperative to him as the clothes themselves. Alex's love for contrasts is reflected throughout the collection with juxtaposing notes of street and luxe, sexy versus androgyny, and where vagabond meets a street-smart modernist.
As a Native Californian, Alex was born and raised in San Francisco and has a Chinese American family heritage. At the age of 18, he moved to New York City where he attended Parsons Design School and partook in a variety of internships. By his sophomore year, Alex was already designing the first collection of his label Alexander Wang, which was predominantly knits. He launched his full women's collection in 2007, selling internationally to over 200 boutique and retail stores, and a full accessories collection followed in 2008.
Now at 25, Alex resides in New York City's Lower East Side, where there is never a shortage of inspiration in music, life, reality and culture. In 2008, Alexander Wang received top honors as the recipient of the Vogue/CFDA Fund; and in 2009, he was recognized by his peers with his second nomination for the CFDA Swarovski Womens Wear Designer of the Year Award."
See the rest of the 30 Most Influential Asian Americans Under 30
here
.