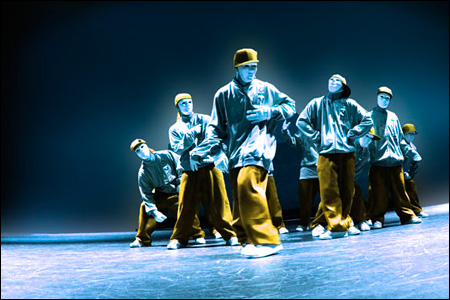 JabbaWockeeZ, Super Cr3w, Quest Crew
Ages: 22-31
Champions,
America's Best Dance Crew
Why they're influential: Because damn, Asian Americans can dance. If you've been reading this blog for any length of time, you know that I'm a huge fan of MTV's
America's Best Dance Crew
. I became an avid viewer at the beginning of season one, not only because it's an opportunity to see some kickass dancing, but because Asian Americans dancers have been seriously representing since the very first audition episode.
JabbaWockeeZ
, whose name is derived from the Lewis Carroll poem "Jabberwocky," took the show's crown in season one, and are known for precise, intricate synchronization and their signature white gloves and masks. Members include Jeff Nguyen, Rynan Shawn Paguio, Ben Chung, Kevin Brewer, Phil Tayag and Chris Gatdula.
Season two winners
Super Cr3w
are known for their acrobatic power moves and show-stopping theatrics. Members include Mike "Murda" Carrasco, Angelito "Vex" Casal, Jon "Do-Knock" Cruz, Abenamar "Ben" Honrubia, Ronnie "Ronnieboy" Abaldonado and R.J. "Rockadile" Puno.
Season three winners
Quest Crew
hold the distinction of being the first all-Asian American crew to take the title of
America's Best Dance Crew
. Founded in 2003, its members, known for their crazy hairstyles, include Ryan Conferido, Hokuto "Hok" Konishi, Brian Hirano, Victor Kim, Stev Terada, Ryan Feng and Dominic "D-Trix" Sandoval.
But it's not just about the champions. This is really about the entire
ABDC
phenomenon, and how the show has unexpectedly become a showcase for Asian American dancers to shine, front and center, on MTV -- arguably the flagship television network for popular American youth culture.
Much props to crews like Beat Freaks, SoReal Cru, Fanny Pak, Kaba Modern and Fysh N Chicks, among many others -- they all had Asian American dancers within their ranks. Sure, it's just another TV dance show. You can dismiss it all you want. But these guys are changing media perceptions for future generations, literally, with leaps and bounds.
See the rest of the 30 Most Influential Asian Americans Under 30
here
.