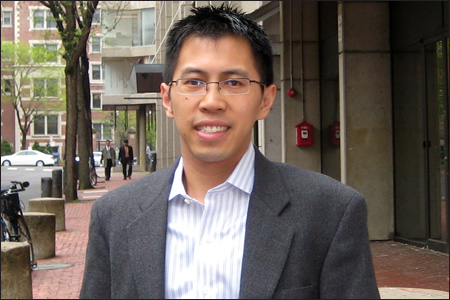 Clarence Tong
Age: 26
Founder/Executive Director, Asian American Civic Project
Why he's influential: Because he's changing the way Asian Americans exercise their civic duty. Clarence Tong is the founder and executive director of the Asian American Civic Project, a pipeline program that promotes recent Asian American college graduates into electoral politics. In its inaugural year, the organization has successfully placed a handful of young APAs on political campaigns, giving them valuable training and experience.
Building alliances with Asian American politicians, including Congressman Mike Honda, and with the help of API groups throughout the nation, Clarence fundraised over $50,000 to send five recent graduates to work on contested Congressional races for the 2008 campaign cycle.
Before returning to graduate school recently, Clarence excelled rapidly on Capitol Hill, serving in key roles on Joe Sestak's successful 2006 campaign, defeating a ten-term Republican incumbent in the House of Representatives. He then rose from a Legislative Assistant to Communications Director, Press Secretary and Policy Director in Congressman Sestak's office in less than a year and a half.
According to his brother Wilson (who nominated him), Clarence "constantly looks beyond himself and to how he can positively affect and mentor a new generation of APA leaders in politics. His mantra has always been that one should never forget his/her roots and identity, and he certainly has not, making my first generation parents proud even though they didn't know what American politics was before Clarence."
See the rest of the 30 Most Influential Asian Americans Under 30
here
.