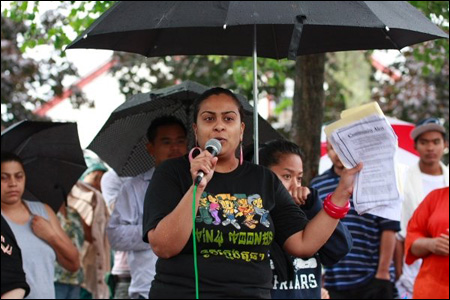 Dimple Rana
Age: 29
Co-Founder, Deported Diaspora
Why she's influential: Because she's working to raise awareness about deportation in the Cambodian American community and beyond. A longtime advocate for the Asian American community in Boston, Dimple Rana is the co-founder of
Deported Diaspora
, an organization raising awareness and challenging the U.S. deportation system through education, organizing, advocacy and art.
A Gujarati Indian American woman, Dimple grew up with the Cambodian American refugee community in Revere, Massachusetts. Over the past 11 years she has been actively involved in community organizing, social justice education, gang violence prevention and social, educational, and economic support within the Cambodian American community.
Since 2002, when the U.S. and Cambodia signed a repatriation agreement ordering the repatriation of over 1,500 Cambodian American refugees convicted of "aggravated felonies," Dimple has been part of a movement to fight deportations of Cambodian Americans. In 2005, she moved to Phnom Penh for two years to help develop social services, entrepreneurial opportunities, substance abuse recovery and advocacy for refugee deportees.
Last year, Dimple returned to Boston to establish Deported Diaspora. With very little funding, she and her co-founders have organized public outreach events, protests/ demonstrations, policy efforts, outreach and counseling to families, and legal assistance to tackle individual deportation cases, as well as the larger issue of deportation.
See the rest of the 30 Most Influential Asian Americans Under 30
here
.