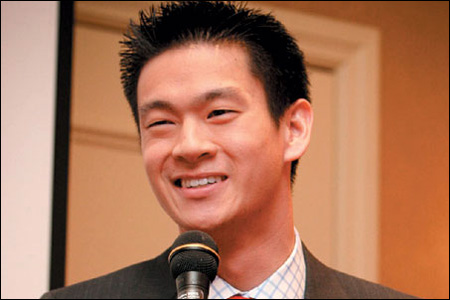 Evan Low
Age: 25
City Council Member of Campbell, CA
Vice-Mayor of Campbell
Why he's influential: Because he's blazing a trail through local politics. In 2006, at age 23, Evan Low made history when he became first Chinese American, openly gay, and youngest person ever elected to the city council in Campbell. A rising star with just a few years experience in the political arena, he holds the distinction of being California's youngest openly gay official.
A fifth generation Californian, Low has strong roots in empowering his community through civic engagement and volunteerism, and places a strong focus on issues surrounding affordable housing, education, and domestic violence. He also currently works as a Senior District Representative for State Assemblymember Paul Fong, and was appointed by Gov. Howard Dean to the DNC Convention Rules Committee in 2008.
On June 5, 2006, San Francisco Mayor Gavin Newsom honored Evan with a proclamation, naming the day "Evan Low Day" in the city and county of San Francisco for his leadership in the greater community -- months before he was even elected to public office. I think we can expect a bright future from this guy -- first Campbell, then the political beyond. One step at a time.
See the rest of the 30 Most Influential Asian Americans Under 30
here
.