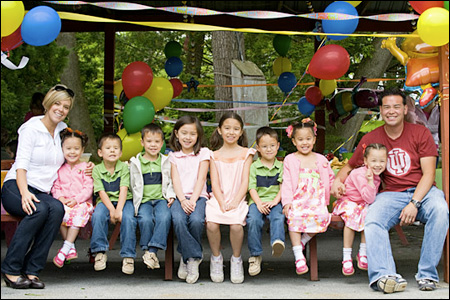 Cara, Madelyn, Alexis, Hannah, Aaden, Collin, Leah and Joel Gosselin
Ages: 8 and 5
Jon & Kate Plus 8
Why they're influential: Because America can't stop watching. I'll admit it. Long before Jon and Kate Gosselin's alleged marriage troubles were the fodder for every tabloid cover and Hollywood gossip show in America, I was an avid viewer of TLC's
Jon & Kate Plus 8
. Heck, I'm watching it right now as I write this. And chances are, I'll be tuning in to the season five premiere tonight.
I agonized back and forth over whether or not to include these kids on the list. The truth is, they had made the short list of candidates long before any of this negative media attention started. But for better or for worse, if it weren't for these eight extremely cute Korean American children, nobody would really care about the train-wreck tribulations of Jon and Kate.
Yes, growing up in front reality cameras show has its extreme drawbacks. As America, in all its unabashed voyeurism, fixates on everything that's going wrong between this couple, I wonder if anyone's stopped to ask how the media attention is affecting the kids. It's become clearly evident that their "we're just a normal family" refrain is a myth.
Say what you will about their parenting methods, or sometimes way-too-honest on-camera bickering, or rumored infidelity on both sides, or even Kate's
WTF hairstyle
. The fact of the matter is, there is a significant television-viewing audience that is fascinated by this very real, very large, biracial family, and has watched these kids grow up, season after season.
See the rest of the 30 Most Influential Asian Americans Under 30
here
.