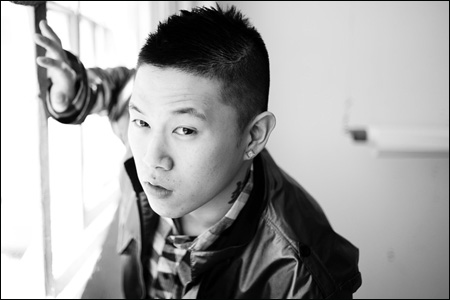 Jin
Age: 26
Musician
Why he's influential: Because he put a face on Asian American hip hop. Since jumping on the scene in 2001, rapper/songwriter/actor Jin Au-yeung, or just
Jin
, has been making moves as a pioneer for Asian American emcees in hip hop -- first as a freestyle battler, then as the first Asian American solo rapper to be signed to a major record label, then making music on his terms.
His Freestyle Friday run on BET's
106 & Park
is now downright legendary. Proving himself a skilled battle rapper, he took down the competition week after week -- on a nationally televised stage, no less. After winning seven weeks straight, Jin was inducted into the show's Hall of Fame. Long before YouTube, I must have watched the video of his seventh win at least fifty times.
Since then, Jin has sort of been held up and touted -- whether he liked it or not -- as Asian American hip hop's "chosen one," first going down the traditional record label route by signing with Ruff Ryders, and then breaking off and forging his own path and releasing music as an indie artist.
Personally, I think Jin has always been most interesting when he's taken a stand, whether it's biting back at New York's Hot 97 for the infamous "Tsunami Song" parody, or firing words at
Rosie O'Donnell
for her "ching chong" moment, or rocking the vote as an
early supporter
of Barack Obama for President.
These days, Jin is splitting time between the U.S. and Hong Kong, having carved out a bi-lingual career that pushes hip hop's transnational boundaries. And he's just making good music, in any language. No doubt, there are plenty of other talented Asian American emcees out there, but no one has really taken on the culture quite like Jin.
See the rest of the 30 Most Influential Asian Americans Under 30
here
.