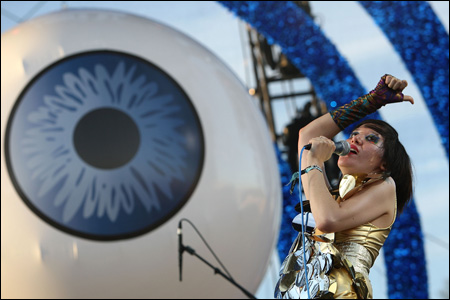 Karen O
Age: 30
Vocalist, Yeah Yeah Yeahs
Why she's influential: Because she rocks your face off. Karen Lee Orzolek, better known by her stage name Karen O, is lead singer of New York-based rock band Yeah Yeah Yeahs. And basically, she's awesomeness personified. In a few short years, this Korean American rocker, with her Hynde-like growl and out-there style, has become an unmistakable icon in music.
Since the Yeah Yeah Yeahs released their self-title debut EP in 2001, and their first full-length album
Fever to Tell
in 2003, the band's gritty art rock sound has garnered them both strong critical acclaim and legions of fans worldwide. And in 2007, the band became one of the first western rock acts to play in China when they headlined the Modern Sky Festival in Beijing.
They're also known for putting on one hell of a live show, with Karen O's energetic, freak-ass stage antics front and center. She's been noted for her wild sense fashion, wearing over-the-top outfits made by her friend, designer Christian Joy, and apparently inspiring a crazy wave of fashion followers. She's a hot rock goddess, and there's really no one else like her.
See the rest of the 30 Most Influential Asian Americans Under 30
here
.